Steph's brother's wedding was this past weekend and it was choc full of chinese food, creepy godfathers and fun. Also, we were treated to Steph's fabulous cousin Victor staying with us. He's a blast to be around, and did I mention, that dude has no off switch. Epic! Last Thursday, we took Vic to Asia SF to watch the Trannys work it. It was good times for all. Below are some pics of various stuff.
At Asia SF
Also at Asia SF
Steph n cousin Vic at the wedding banquet.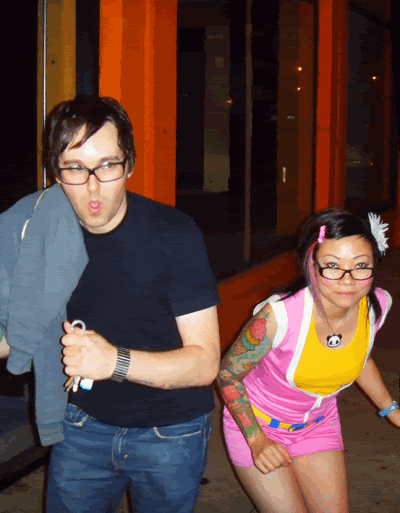 A lil jump kicking gif
The Coup de Gras
As promised there is a cheese course. The idea i have pitched is: One uber wild cheese tasting a month. We had ours for the month and I think Steph said it best in her Yucky Blog:
Ieatyuckystuff.com
Also on the agenda with a date to be determined. A Retro Brunh. This all came about when the vintage cookbooks I ordered on eBay arrived. One of the them is entitled "Brunch, Breakfast and Morning Coffee". It's filled with all kinds of eats prepared lovingly by ladies in pearls and fancy dresses with well coiffed hair dos. I hoping to make this thing happen within the next couple of weeks.
And finally as I endeavor to learn to use my Holga I wanted to post to a Flickr account because I figured it was a good place to get tips from other peeps etc. So from my first roll I captured one usable image but I like it. It was taken with no flash and I just left the shutter open for a few minutes. More to come.
Holga Pics