This weeks mystery box of veggies turned up to be full of some tasty yum yums. I decided that with fall approaching it would be a delicious treat to make homemade pot pie. I felt like going the smallish individual sized route and i used a muffin pan to make 8 little individual pies, and WOW! They turned out better than I had expected. I used sage as the main herbal ingredient. Ok, the puff pastry was had from Whole Foods, and I did that because I will tell what. Making puff pastry dough is a bitch and takes a few hours to get the proper layering. Also the chicken was rotisserie also from W.F. as time was a factor. Enjoy!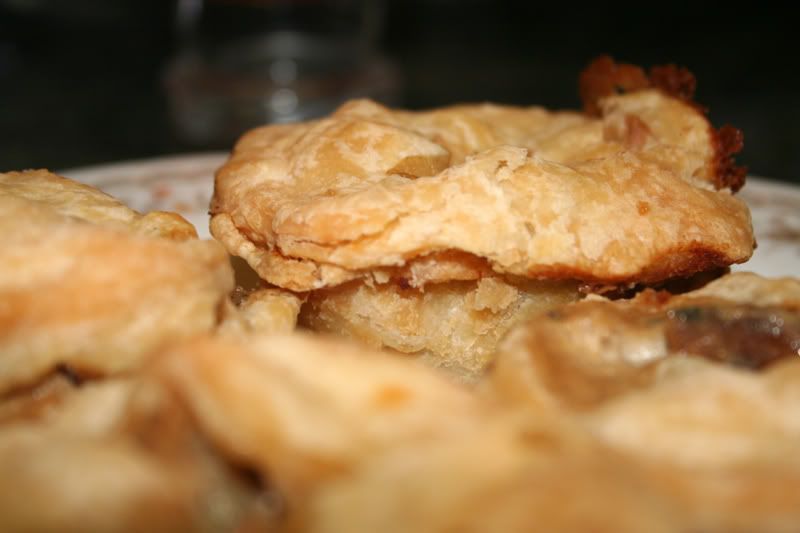 Fast Forward to last night, Steph was invited to meet up with her LJ colorful girl posse at
Teatre Zinzanni
. Although I know of this place it's usually not a place I'd think of going as performance art type things are usually not my cup of tea. But I have to say for what it was, and for $20 a person it was pretty entertaining. Mind you we went to the late night edition so it's supposed to be more risque and dressing up is encouraged. Upon entering we were immediately wondering "who are these people" and "what era is this mode of dress supposed to represent?" After thinking about it I feel that it was supposed to evoke a sort of vaudevillian look. I think that after some thought I've decided that they we're going for a decidedly Far and Away meets Gangs of New York theme as some of the dudes, and one that Steph seemed especially concerned with until she found out he was balding, were dressed as 1800s bare knuckle boxers. Among the other groups represented we decided that there were swing dancing aficionados, Burning Man peeps, overzealous Anne Rice fans, and peeps that are way into burlesque. As for the talent on stage, we were treated to a girl that sang an ode to salty meats while showing us her pasty clad boobs. Then we got to see a very androgynous contortionist. Another classic was spoken word poetry in the guise of a Mexican gangster about Charlie Brown's lack of brown peeps appearing in the comic strip. The last act was another burlesque piece by a girl sitting on a cupcake and who had cupcakes on her boobs. Her stats according to her song were: 5ft even and 101 lbs. Though she made no reference to her bust and hips.